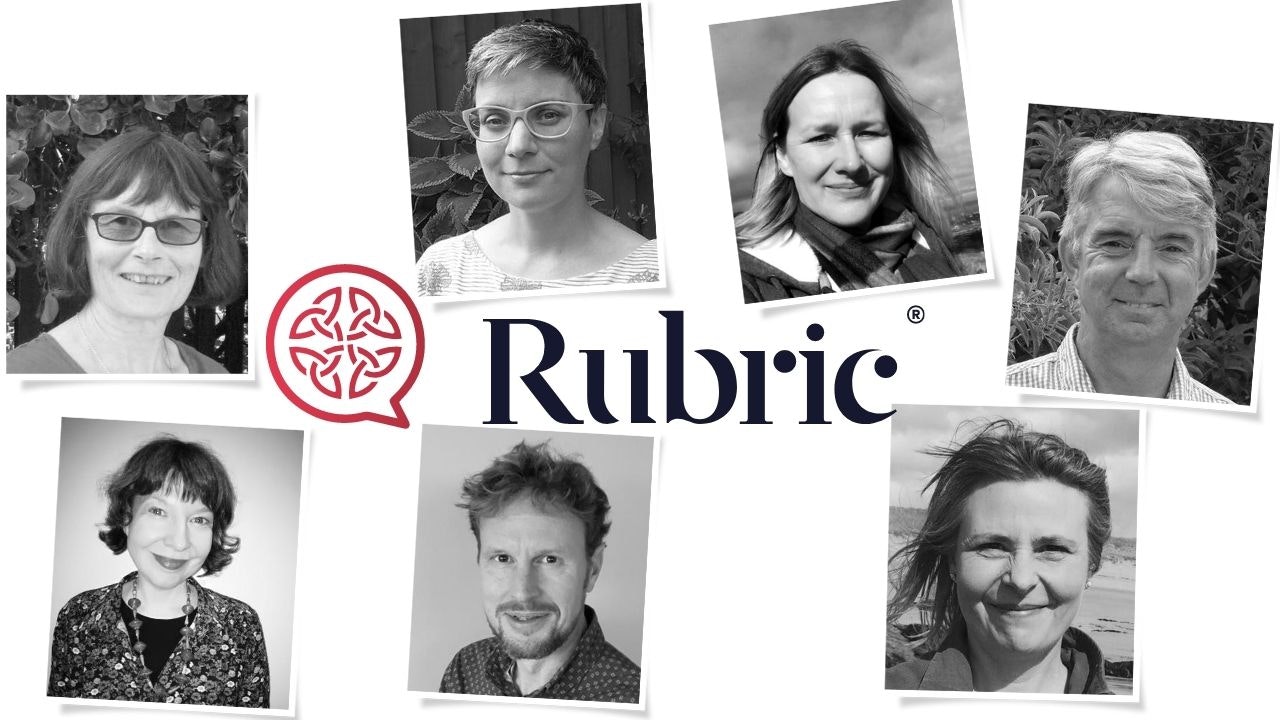 This month, we have made an exciting announcement for the future of Rubric. We have moved to an Employee Ownership Trust (EOT). This new ownership model sets the groundwork for a new vibrant chapter in the future of our company.
What does it mean that Rubric is now an employee-owned company?
What will change about Rubric?
What will remain the same?
If you are an existing client of Rubric, you already know about our move to becoming Rubric EOT. We sent out news of this change to our existing clients long before we released 
our exciting news to the media.
But, if you are newer to Rubric, you might wonder what difference this move will make for you and your business.
Let's look at why we have chosen to make this momentous decision…
Why we prioritize long-term continuity for Rubric
In 1994, Françoise and Ian Henderson founded Rubric. Their dream was to transform the inefficient localization processes that were widespread in the industry. By incorporating the latest technology and focusing on process optimization, they have created a business that approaches localization very differently from our competitors (you can read more about this in 
The Rubric Story
).
Like many business owners, Françoise and Ian Henderson are determined that Rubric will continue to provide our characteristic high level of service long into the future.
Over the last 2 years, they have looked for a succession plan that will preserve Rubric's unique approach to localization, whilst ensuring our loyal staff are rewarded and continue to have job security.
Françoise says:
"Having spent nearly 3 decades building Rubric from scratch, we had no intention of looking at a potentially disruptive trade sale. The move to Employee Ownership means Rubric will not need to.
We have created our EOT for the benefit of Rubric's current and future employees, as well as clients and partners.
What is an Employee Ownership Trust?
An Employee Ownership Trust is an employee benefit initiative that provides a stable, long-term structure for businesses.
It means that we have sold all shares of the company into an Employee-Ownership Trust called Rubric EOT. This effectively hands over control of the company to the people who know it best — our employees.
Research has shown
 that employee-owned companies perform better than their peers as a result of being more engaged, innovative, productive, and sustainable.
Françoise says:
"These qualities are already hallmarks of Rubric. We have consistently exhibited a desire to grow and form new business relationships.

"At Rubric, we have always been strong on dedication. Under Employee Ownership, everyone at Rubric will have a new formal, vested interest in those principles and a tangible reason to uphold and develop them going forward."
How Rubric EOT will benefit you
Whether you have been with us at Rubric for many years or we are just starting our relationship together, Rubric EOT will bring significant benefits for you and your company.
The core benefit of our new ownership model is that it assures you that Rubric will be a trusted business partner long into the future.
Benefits of working with an EOT business include:
Continuity of the business long into the future.

More innovative. We pride ourselves that Rubric is always at the cutting edge of translation and localization. Employee Ownership will help us ensure we remain innovative.

A continued focus on strong relationships. The move means we can keep our trusted client and partner relationships.
Françoise says:
"We believe this shift to Employee Ownership will herald the start of a new vibrant chapter in the Rubric story. We will move onto a more dynamic footing whilst ensuring we remain the loved, respected, and profitable localization company that we always have been."
What the move means for clients, employees, and partners
You might wonder how this recent change will affect you and the operations at Rubric. We understand you want to know what will change for you, whether you are a client, employee, or partner.
What will change about the day-to-day running of Rubric?
Ian says:
"This development will have no impact on our business operations or on how we work with our clients. The existing directors and management team will continue to run the company in the manner to which our clients have become accustomed.

"It is simply about changing the ownership to ensure that Rubric continues to deliver exceptional service to our clients and partners."
Here's what the move to Rubric EOT means…
… for our established and newer clients — The new EOT structure provides the confidence that you will continue to receive the same high level of service and partnership that are hallmarks of working with Rubric.

… for our employees — It provides them with a clear influence on the future of the business. It allows them to keep the same client and supplier relationships that they have built over years.

… for our partners and suppliers— It provides the confidence that these strong relationships will continue long into the future.
Your relationship with Rubric EOT
This new ownership model is a way for us to continue to provide the high level of service and innovation that we already provide here at Rubric.
Whatever your relationship with us, this development will have no impact on our business or how we work with you.
It will simply be about changing the ownership structure to ensure that Rubric remains a unique localization company that continues to deliver exceptional service to our clients and partners.